More than one approach is best
We partner with you to achieve great results
We believe in a scientific approach
Everyone knows they should eat in a healthy way and exercise regularly, but this is not something that is always easily achieved.
Sage Active Clinic programs will assist you to lose weight, prevent disease and manage chronic conditions including injury, (sore backs and shoulders can even be a thing of the past). These programs will enhance your endurance and state of mind.
Our Personal Training or Small Group Exercise classes are led by Sage Exercise Scientists or Exercise Physiologists, who have studied for many years to obtain university qualifications. The Sage Active coaching sessions are backed by scientific and medical research with your progress laid out in regular easy to read treatment notes.
Sage Active Clinic InBody reports provide a way to monitor the effectiveness of your training. Understanding your current physical capabilities, allows the Sage ESSA accredited practitioner to prescribe the right exercises for you at the right frequency and intensity.
Our reports are produced by state of the art equipment and lead by our highly qualified staff, so you know what you are getting is relevant and accurate.
Body composition scanning
Balance is a crucial component that is very often overlooked when planing and exercise program. This balanced assessment can tell us what is really going on with a person's body. Out of sync metrics may be a sign of low muscle strength and control, so establishing a good level of balance can significantly reduce the risk of injury as well as improve your daily life.functionality.
Initial balance assessment
To ensure safety during your workouts, we have strict protocols in place allowing the Sage Active Clinic practitioners to determine your ability to balance and ascertain when you are ready to progress to certain movements. For example, if you have a physical restriction (e.g. your shoulders don't have full range of motion) you may be at a higher risk of injury when you do certain exercises. After your initial consultation we can ensure these risks will be minimised, reducing your chance of injury and pain. Then we are able to improve the restriction, providing you with the right tools to progress onto more advanced exercises.
Body composition refers to an individual's different body components made up of water, fat, protein, muscle, bones and much more.
Sage Active Clinic uses the InBody 770 scanning machine, which is the premium body composition analyser. Trusted by top hospitals and used for medical research, patient monitoring, sports medicine and sports science. A baseline of your body composition is established, and then followed up by regular progress check ins. These reports, will provide you with easy to read, visible and accurate results of how your body is shaping up with your lifestyle and fitness regime. Using these reports the Sage Active Clinic team monitors your progress, and helps make sure the exercises you are undertaking are getting you on your way to a healthier lifestyle.
Often the day to day pain people go through, is related to poor joint and muscle range of motion. This in turn increases the chance of soft tissue injury, such as a muscle or ligament tear. It's imperative that monitoring flexibility and range of motion is done for a better quality of life. Your flexibility data will be measured and included in your regular progress report data.
The heart is a vital organ, and so it should be treated that way. To maximise the benefits of exercise for your heart, we need to test your aerobic capacity, which is the measurement of your heart function. Having a strong and healthy heart is vital for people of all ages and will very likely prevent complications later in life. A higher aerobic capacity means better long-term health and physical performance. Our state of the art Watt bikes provide data to measure your progress.
Resistance or strength training is an essential part of fitness and health for all individuals. Building muscle is a priority for any weight loss goal, as increased muscle increases your metabolism and becoming stronger minimises workplace and lifestyle injuries.
This is important particularly as you get older. Weights and resistance training is specifically designed for you by our Exercise Physiologists who have spent years studying to provide a safe and effective environment to improve your health and well-being.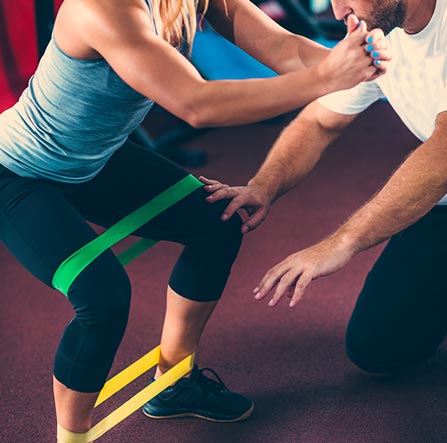 Motivation, professional instruction and your collaboration is what works.
It is not just equipment but the combination of expertise.